Wimbledon 2018: Serena Williams could be top seed on return
Seven-time champion Serena Williams could still be made the number one seed at Wimbledon this year, even if the American does not climb back into the world's top 32 before the tournament.
Williams, 36, has dropped to 449th in the world since giving birth last year.
She believes players returning from pregnancy should have protected seedings as well as protected rankings.
Richard Lewis, chief executive of the All England Club, told BBC Sport that it was a "big decision".
Lewis said initially he thought it was "unlikely" Williams would be given a seeding if she was ranked outside the 32 in the run-up to the tournament, which starts on 2 July.
However, the club later issued a statement clarifying that its committee had the discretion to seed a player for the Championships regardless of their ranking.
"The seeding order follows the WTA ranking list, except where in the opinion of the committee, a change is necessary to produce a balanced draw," the club said.
The seeding meeting is due to take place on 26 June.
Williams, who gave birth to daughter Alexis Olympia Ohanian Jr in September, has played four singles matches since returning to action, reaching the last 32 in Indian Wells before losing to older sister Venus and then going out to Japan's rising star Naomi Osaka in round one at Miami.
After Indian Wells, world number one Simona Halep said she believed Serena Williams "should have been given top seed", while Miami tournament director James Blake said the seeding rules for players returning from pregnancy were "a kind of punishment".
'Murray can't be given special seeding'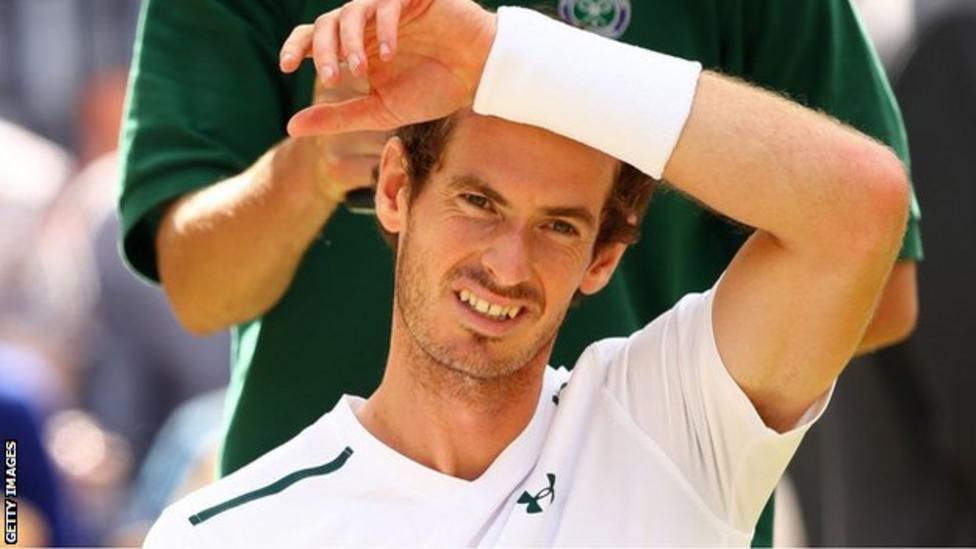 Despite the possibility for Williams, Britain's two-time men's champion Andy Murray will not be seeded if he is not ranked in the top 32 when the Championships begin in July.
Murray, 31, has not played competitively since losing in the Wimbledon quarter-finals last year because of a hip injury.
The Scot had surgery in January and has been back training on court, but is extremely unlikely to climb back into the top 32 before Wimbledon.
"We take into account grass-court results from preceding years but the agreement we have with the ATP is based on computer formula," Lewis said.
"Andy wouldn't be put in the top 32 if he isn't in that formula."
It means Murray could be drawn against, for example, Roger Federer or Rafael Nadal in the first round.
The prize just got bigger
The Wimbledon singles champions will win £2.25m this year, with organisers announcing the total prize pot will increase by 7.6% to £34m.
Last year's winners Federer and Garbine Muguruza took home £2.2m.
The total prize money is more than the 55m Australian dollars (£30m) offered by the Australian Open in January but slightly less than the French Open (£34.5m), starting later this month.
Wimbledon runs from 2-15 July.
'Tennis is gladiatorial' – Wimbledon opposed to on-court coaching
Meanwhile, Wimbledon bosses say they remain "very strongly" opposed to any form of sanctioned coaching from the stands or on court during a match.
The WTA Tour allows a coach to come on to court and talk to their player once per set, and the US Open experimented by allowing it during the qualifying event last year.
"We believe and are proud of the fact that tennis is a gladiatorial sport," said Lewis. "When you go out on court, you're on your own and you have to sort it out for yourself.
"That's different to the vast majority of sports and we believe that's a fantastic USP for us, and why not keep it?
"We don't agree with the trials that are being used at the moment to see whether it makes the sport more interesting. We think it's the opposite."
Women's World Cup: Nine Countries Show Interest In Hosting
Nine countries have expressed interest in hosting the 2023 Women's World Cup.
Argentina, Australia, Bolivia, Brazil, Colombia, Japan, New Zealand and South Africa have formally declared their interest.
A joint bid for the tournament could also be made by North and South Korea.
World football's governing body, FIFA, says the deadline to submit bidding registration is the middle of April.
Olivier Giroud Banned From Driving For Six Months For Speeding
Chelsea forward Olivier Giroud has on Tuesday been banned from driving for six months after admitting to speeding in his Bentley in his fourth offence in nine months.
The 32-year-old French international, who helped lead the team to World Cup victory, has been banned after he was caught driving at 60mph (97km/h) in a 50mph (80km/h) zone, 10mph above the speed limit in Willesden on 2 May 2018.
At Willesden Magistrates' Court, Giroud was disqualified from driving after three penalty points were added to his licence, taking him to the 12-point limit. Neither the Chelsea star nor his lawyer was in court having admitted to the offence in November.
Super Falcons: Dennerby Invites 30 Home-Based Players Ahead Of World Cup
Super Falcons head coach, Thomas Dennerby, has invited to camp 30 home-based players for preparations as this summer's Women's World Cup Finals enter a new gear.
The nine-time African champions are scheduled to play two matches in Spain in the first week of April to further put themselves in shape for the finals.  They have been to tournaments in China and Cyprus to prepare for the big global fiesta in France, playing six matches in all.